I'm a big believer in romance and true love's journey. When I meet a couple for the first time, there's nothing I like better than to ask, "So, how did you guys meet?" and "When did you know he/she was The One?"
I appreciate a good love story, whether it's told through conversation, written in the pages of a book, or viewed on a movie screen; and one of my favorite romance stories has been made into a movie twice.
In 1939 director Leo Carey made Love Affair. This black and white film starred Irene Dunne and Charles Boyer.
The plot is pretty straightforward: A man and a woman—both engaged to other people—meet on board a ship and fall in love.
There's a lot to like about this movie, especially Irene Dunne. She's a wonderful actress, and she makes her character extremely likable. Add to that some snappy dialogue and a handsome male lead, and you have the makings for a lovely romance.
Carey remade the movie in 1957 and gave it a new title: An Affair to Remember. This version starred Deborah Kerr and Cary Grant, and it's one of my all-time favorite movies . . . and I'm not alone in that opinion. Women around the world (the movie's been dubbed into several languages) love this movie because of the way it makes them feel when they watch it.
I've always been content to watch An Affair to Remember just for that reason–the way it makes me feel. But last week I decided to watch it with a more critical eye.
As I watched, I wondered why women find this movie so romantic? And can that same magic mojo apply to plotting and writing romance novels?
I think it can. So here, without further ado, are the seven lessons An Affair to Remember taught me about writing romance:
1. Back story is essential.
The main characters, Nickie (played by Cary Grant) and Terry (played by Deborah Kerr) have baggage. When the movie opens Nickie has no real job, but he's world-famous for being a womanizer and a playboy. He's also happens to be engaged to a wealthy woman who will be able to support his lavish lifestyle.
Terry, on the other hand, is down-to-earth and knows what it's like to have to work for a living. She, too, is engaged; her wealthy businessman fiancé whisked her out of the working world and set her up in style in a New York penthouse. She loves him, but more than that, she feels indebted to him for changing her life.
These character histories are the main drivers for Nickie's and Terry's behaviors throughout the movie.
2. A great plot needs a great subplot.
An Affair to Remember has a simple premise: A man and a woman meet aboard ship on a lengthy trans-Atlantic crossing and fall in love. But that plot line only takes up the first half of the movie.
The second half of the movie deals with the difficulties our hero and heroine encounter as they try to extricate themselves from their old relationships and prepare for life with their new love.
Interestingly, the movie doesn't have a foil or villain; Life is the villain as it throws one challenge after another at our hero and heroine in their quest to reunite by the end of the movie.
3. Characters must grow and change.
Nickie and Terry both change during the course of the movie. When the movie begins, Nickie is a bit of a jerk, although a charming one. His claim to fame is dating then dumping one wealthy woman after another. Even though he's newly engaged to yet another heiress, he pursues Terry, letting her know he wants nothing more than a brief fling before their ship docks in New York, where his rich fiancé is waiting for him.
He's selfish, thinking only of his own needs, giving no thought to his fiancé, as he pursues Terry. He's simply bored, and he wants Terry to keep him entertained.
Terry has her own set of problems. She's traveling alone because her fiancé had to take care of some business instead of sailing with her.
As she explains this to Nickie, you see the sadness in Terry's expression, and you get the feeling that Terry's fiancé often chooses his business needs over hers. Terry tells Nickie:
He had to go to Texas on a big merger. He thought it'd be a good idea if I took a little trip while he consummated this big deal because I have no head for business. Silly, isn't it? He doesn't think I'm dumb, but he doesn't think I'm very bright about things like that.
Terry's relationship with her fiancé may not be very satisfying, but she's determined to be faithful to him. She tells Nickie to take a hike and stop trying to flirt with her.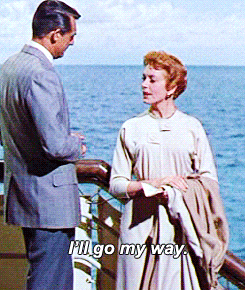 But eventually, Terry changes her mind about Nickie. She realizes she enjoys his company, and it may not be such a bad thing to spend time with him while she's stuck on a ship in the middle of an ocean. But that doesn't mean she's going to let him cross her line in the sand.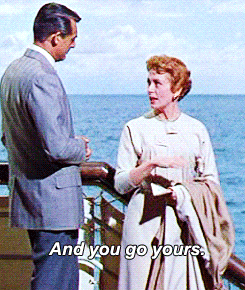 That's how the movie sets up essential questions about the main characters that drives the story forward:
Can Nickie really change? Is he really falling in love with Terry for the first time in his life; or is he just using her for that ship-board fling?
Can Terry really change? Is Terry really falling for Nickie; or is she simply lonely and in need of a little romance in her life to make up for her neglectful fiancé?
4. Dialog is a writer's friend.
The banter between Nickie and Terry is one of the best things about this movie. Not long after their ship sets sail in the autumn of 1957, Nickie invites Terry to his cabin. Terry replies:
My mother told me never to enter any man's room in months ending in R.
Terry is steadfastly faithful to her fiancé, parrying each of Nickie's flirtations with good old-fashioned common sense:
Nickie: I was bored to death. I hadn't seen one attractive woman on this ship since we left. Now isn't that terrible? I was alarmed. I said to myself, don't beautiful women travel anymore? And then I saw you, and I was saved… I hope.

Terry: Tell me, have you been getting results with a line like that, or would I be surprised?
And after Terry rejects him yet again, Nickie mutters, "I'll just take my ego for a walk."
With each exchange, we learn more about Nickie and Terry as individuals. His dialogue is smooth and urbane. Her lines reveal her skepticism and intelligence.
The more Terry fends him off, the more Nickie is attracted to her; and by the time they dock in New York, they're in love and trying to figure out how to end their current relationships so they can be together.
5. But description is important, too.
Every good novel needs a certain amount of description so readers can visualize the places the characters inhabit.
What a character wears can give us an instant visual cue into his or her personality. That's true of Terry in An Affair to Remember. In the movie she wears dresses and suits, gowns and bonnets, and each one is beautiful and tasteful. Her clothing declares her to be a lady through and through, and a stylish one, at that.
When Terry first meets Nickie, she's wearing this orange creamcicle gown, and it's a stunner.
Nickie is no slouch himself. He's impeccably dressed throughout the movie. The suit he wears when he takes Terry ashore on one of the ship's ports of call is not only expensive, it just happens to be the perfect color for him.
And the little Mediterranean home he takes Terry to while they're ashore turns out to be a lovely, romantic bit of paradise, high on a hill. It's while they're visiting that little hill-top Garden of Eden that Nickie and Terry first begin to see each other through fresh eyes.
Turns out, the home they visit belongs to Nickie's grandmother, and they all spend a very pleasant afternoon together. Near the end of their visit, while Grandmother is playing the piano, Nickie gives Terry a look that telegraphs his growing feelings for her.
Its a glance that reminds me of a similar look Lizzie Bennet and Mr. Darcy exchanged at Pemberley in the 1995 BBC version of Pride and Prejudice . . . and we all know what happened to Darcy and Lizzie after that.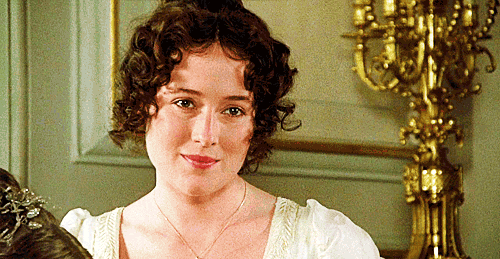 6. You don't have to show everything . . .
Sometimes it's best to allow your reader to fill in the blanks for themselves. This is probably the most important lesson I learned from watching this movie. Here's an example:
This video is a short clip from the movie; 57 seconds in you'll see Nickie and Terry share their first kiss.
The thing is, you don't really see them kiss, but you know that's exactly what they're doing. You also know that Terry knew the kiss was coming; she gave one fleeting thought to stopping Nickie—She even retreated a step—but in the end she decided to stand her ground and let Nickie kiss her.
And that is the point in the movie when you know Terry's falling in love; she has let down her barriers and is no longer fighting the attraction she feels for Nickie.
There's no dialogue in the scene to explain her feelings, and he doesn't explain his. But we know what Nickie and Terry are feeling and doing in the scene, all because of a kiss that we never actually see.
That kiss on the stairway is one of my favorite scenes in the movie. It's subtle, tender, and romantic. The scene taught me that any movie can show two people kissing, but very few movies can melt your heart by leaving a kiss to your imagination.
7 . . . but you have to have a great ending.
As any decent romance writer or reader will tell you:
The course of true love never runs smooth.
An Affair to Remember offers proof of that adage as Nickie and Terry spend the second half of the movie dealing with one trial after another. And just when you begin to believe they'll never end up together because there's only about five minutes of film left, and they can't possibly overcome their difficulties in so short an amount of time, you see a mere glimmer of hope.
The closing scene in the move always gets to me. No matter how many times I watch it — and I've watched it dozens of times — it never fails to pulls at my emotions. I've learned to watch An Affair to Remember with a fresh box of Kleenex close at hand.
In the end, Nickie and Terry get their happy ending, and its well worth waiting for. It's the kind of ending where I sigh and wish it weren't over and feel as if I want to know what happens after the words "The End" flash on my television screen.
That, I think, is the perfect ending for a book, too, because readers who want to know more are readers who are invested in the story. They believe in the characters and believe in their struggles. Readers who want to know more want to be assured the characters they've come to love are going to be okay even after the story on paper ends.
* * *
Those are the seven lessons An Affair to Remember taught me about writing romance, and I'm grateful for the instruction.
Right now I'm working on two books (both romances, of course), and I'm definitely keeping those seven lessons in mind.
In my writing journey I haven't yet reached the level of perfection An Affair to Remember has achieved when it comes to setting romantic standards, but I'm working on it. And in the meantime, I have my own copy of the movie to watch again and again. And one of these days, I hope I'll be able to write a great romance to rival An Affair to Remember.
How about you? Have you ever seen An Affair to Remember? What did you think of the movie?